Rigging Instructions
The Leo Flasher is a dual action flasher. You can change the action of this flasher by the placement of the front snap. When the snap is placed in the center location the flasher will run in a tight inline spin mode. When the snap is placed in the offset side hole location, the flasher will run in a wider rolling pattern. This puts out a deadly "kick" action when running herring or any other lure.
The Leo Flasher turns more than a traditional skateboard style flasher. Because of this, we recommend you run a bumper leader of 18"-24" in front of the flasher with swivel going to your main line as shown below. This will help to prevent line twist. The suggested leader length to the bait is listed below.
Large/Medium Leo Flasher- 36"-48"
Small Leo Flasher- 12"-36" depending on speed and weight of lure behind it.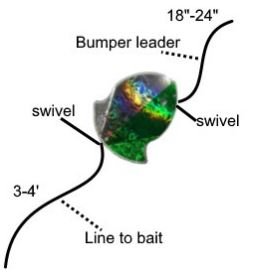 The Leo Flasher has a large "eye" hole that minimizes drag when fighting a fish. This is a great help when fighting fish in currents. This eyehole can also be used to store the flashers on a carabiner. You can easily carry dozens of these in and out of your boat with one hand, maximizing space in your boat.
Leo Flashers are proudly made in the USA.
Patent Pending